Technical examinations and tests of LV and HV
We provide our clients with specialized inspections and tests on HV and LV electrical equipment:
first (initial)

regular (periodic)

emergency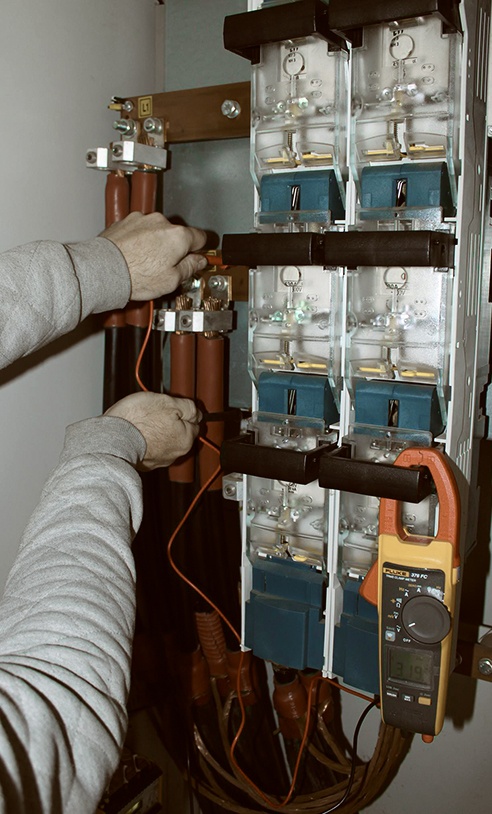 It is well known, that after installation or a complete reconstruction of electrical equipment an initial revision must be carried out.
A lesser-known fact, however, is that under Section 9 of Act No. 124/2006 Coll. (1) the employer (employer also means the operator or lessor of the building) is obliged to ensure safety and health protection at work. In particular, check the state of health and safety at work, including the safety of technical equipment. The employer is therefore obliged to ensure regular periodic revisions on electrical equipment.
Intervals between individual periodic revisions are determined based on determination of external impacts on electrical equipment according to STN 33 2000-5-51: 2007 (Protocol on determination of external impacts is a part of project documentation or initial revision of electrical equipment).
A particularly overlooked category of electrical equipment in terms of regular revisions is electric hand tools routinely used in businesses and households.
Periodicity of revitions determined by functional use and protection class:
Group by
Use (A-C)

Protection classes of tools
(I, II, III)

Revitions min. once per

A
I.
II. a III.
6 months
12 months
B
I.
II. a III.
3 months
6 months
C
I.
II. a III.
2 months
3 months
group A – tools are used only occasionally (up to 100 hours of operation per year)
group B – tools are often used for a short time (from 100 to 250 hours of operation per year)
group C – tools are often used for longer periods (more than 250 hours of operation per year)
Source: copy from STN 33 1600: 1996