MAXONE s.r.o. is the official Danfoss Drives VACON® Service partner and distributor for the Slovak Republic. Our team has been working with VACON® frequency inverters since 2008 having direct experience with most of the drive and photovoltaic applications in Slovakia based on VACON® hardware.
---
We provide:
Supply of frequency converters and soft starters Danfoss Drives
Turnkey delivery
Expert advice on dimensioning the frequency converter
Warranty and post-warranty service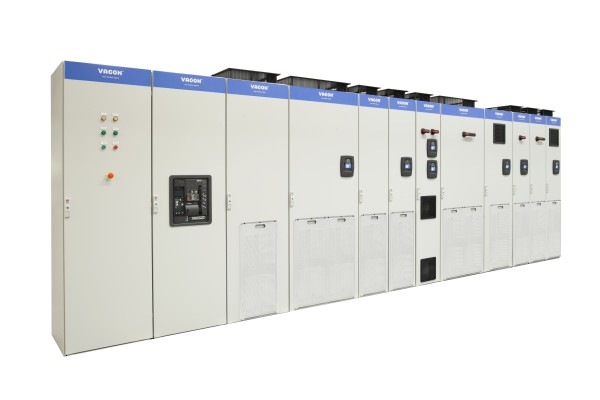 Electric drives are an integral part of modern society, whether in industry or the municipal sector. The principle of operation is in the conversion of electrical energy to mechanical through rotary or linear electric motors of various designs and powers. The most widespread three-phase AC motors are asynchronous or induction motors. The asynchronous electric motors can be found in all areas of life from common working machines (buzz-saw, cement mixer, pumping devices), lifting equipment (lifts, cranes), to demanding industrial applications (combustion fans, extruders, conveyors, etc.).
With the arrival of automation and environmental responsibility, more and more emphasis has been placed on the start and control of electric motors, and electric drives as a whole. By proper tuning of the electric drive, the energy entering the process can be saved to a minimum, thus reducing the operating costs and, last but not least, the environmental impact.
Starting and stopping the asynchronous electric motor
---
DOL – (Direct On Line) starter connects the motor directly to the main supply line
Y/D – Star-delta electric motor starts the motor with a star connected stator winding
Soft starter starts the electric motor by controlling the effective value of the phase voltage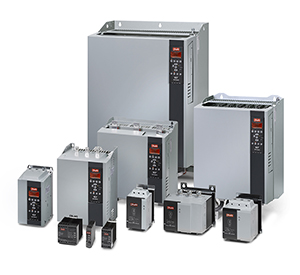 Soft starts Danfoss Drives VLT®
Protects processes, products and equipment with smooth motor control. Soft starting and stopping can be controlled in a number of ways depending on the application:
VLT® Soft Start Controller MCD 100 – a cost effective and extremely compact soft starter for AC motors up to 15 HP, due to a unique semiconductor design. Brochure
VLT® Compact Starter MCD 201/202 – two series of soft starters that provide a total motor starting solution for motors up to 110 kW. Brochure
VLT® Soft Starter MCD 500 – a total motor starting solution. Current transformers measure motor current and provide feedback for controlled motor ramp profiles. Brochure
Starting, controlled running and stopping of the asynchronous electric motor
---
VACON® frequency inverters
VACON® 20 – a compact frequency converter in a slender economical design with the possibility of programming special applications, ideal for OEMs. Brochure
VACON® 20 Cold Plate – an open-frame, cold-plate drive designed to use any type of cooling available inside a customers' installation and to operate reliably in demanding environments. Brochure
VACON® 20 X – a decentralized drive with outdoor enclosure protection which guarantees maximum performance in challenging conditions where heat, dirt and vibration levels are high. Brochure
VACON® 100 FLOW – an AC drive that is dedicated to improving flow control and saving energy in industrial pump and fan applications. Brochure
VACON® 100 INDUSTRIAL – easy-to-use and robust motor controls that are easily integrated into all major controls, offering high reliability in challenging environments as a result of conformal coating. Brochure
VACON® 100 X – a drive for indoor and outdoor applications featuring highly advanced control capability for almost all kinds of applications where a decentralized and robust solution is the best option. Brochure
VACON® NXP Air Cooled – a drive designed to power applications that require a robust and dynamic performance, focusing on higher power sizes and system drives. Brochure
VACON® NXP System Drive – is a comprehensive configured common DC bus drive for heavy-industry needs where round-the-clock activity is required leaving little time for maintenance. Brochure
VACON® NXP Common DC Bus – a drive enabling system integrators, machine builders and OEMs to design and build efficient industrial systems. Brochure
VACON® NXP Liquid Cooled Common DC Bus – brings the benefits of liquid-cooling into common DC bus systems in demanding situations. Brochure
VACON® NXP Liquid Cooled Enclosed Drive – drives integrated into a sturdy enclosure making them ideal for a wide range of industries with severe operating conditions. Brochure
VACON® NXC – an enclosed drive that performs reliably in harsh operating conditions in, for instance, the mining, oil and gas or water and wastewater industries. Brochure